The next step in the metalworking process – after 3D modeling – is typically cutting the metal. We have invested in an extremely large plasma cutting table at Precision Metal Manufacturing. Our 24' long down draft plasma table allows us to reduce lead times for our customers. This size table also allows us to take on custom cutting jobs that other shops aren't equipped to handle.
In addition to plasma cutting, we also have saw cutting and shearing capabilities. We do take on standalone cutting jobs to support your own ability to weld parts together. So, if you have a cutting and/or bending job – talk to us to learn more.
Our AKS Cutting Systems 6'x24' Hypertherm XPR Plasma Table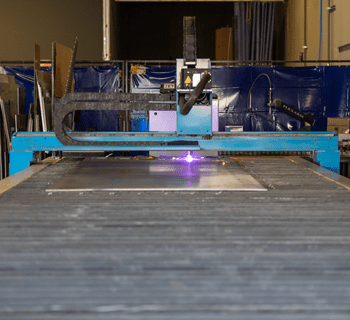 The AKS Cutting systems 6'x24' accu-kut down draft plasma table combines state-of-the art Hypertherm SureCut™ XPR plasma cutting technology with a century of machine-building experience from the AKS team. Our customers love that we have this size plasma cutting table; many shops our size are restricted to a 4' x 8' or a 5' x 10' table.
Why Did We Buy This Plasma Cutting Table?
We invested in this particular table because of four key factors.
We have the capacity to cut 6' x 24' sheets,  or much more importantly we can load two 12' sheets or three 8' sheets. We can be loading and unloading while the machine cuts another sheet, which dramatically increases our efficiency and reduces our lead times when it comes to plasma cutting. So, not only can we handle larger format jobs, but we can push through standard size jobs more quickly.
The Hypertherm X-Definition™ XPR plasma is state-of-the-art cutting technology
Sheet nesting with Hypertherm ProNest™ software allows us to nest parts on sheets very efficiently, keeping the cost of material as low as possible and reducing waste. It applies all the lead-ins and lead-outs required for accurate cutting.
Most small shops use a water table for plasma cutting; we're using a zoned down draft system that gives us cleaner cuts with less dross. Simply put, we get better parts with this table.
We excel on job sizes that sit between one single part and 1000 parts; we perform very well within those parameters. We also know that a single part job this year – if done well – could become a 1000-part job next year.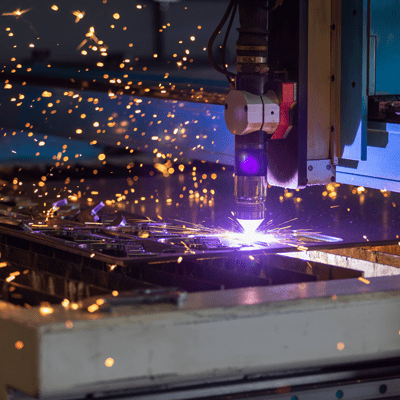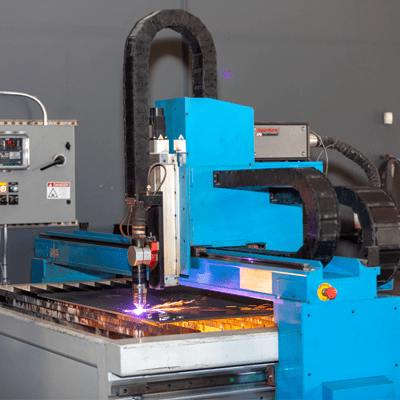 Contact Precision Metal Manufacturing Today
Why not come visit us to see how we do business, and how we maximize job efficiency with our 24' plasma table. We encourage you to contact us today. Call 480-987-2466 or email info@azpmm.com to schedule a meeting with our general manager.