This is the final part of the process, where we assemble and finish parts and products for our customers. Everything we do comes together in the final precision manufacturing phase, where our customers' parts are hand assembled, welded, and finished by skilled craftsmen.
Assembly and Finishing Processes
Depending on the part or the product we are producing, we have a number of final fabrication, assembly, or finishing processes. Each job is different, and we will discuss the custom finish you are looking for at the outset when we spec the job out with you.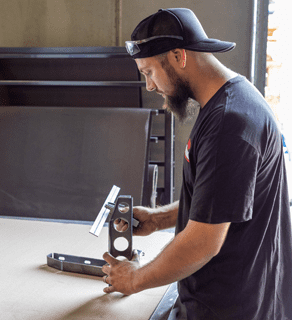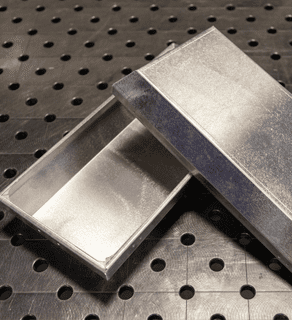 Welding
We have great welders in house, experienced in both MIG welding and TIG welding. Occasionally we take on standalone welding jobs. Sometimes we take on customers' pre-cut sub-assemblies and assemblies where another shop has cut and formed the metal, but they don't have the capability to weld the parts together. Of course, we can help with jobs like that…but next time we would love the opportunity to quote for the whole job rather than just the welding! Come and talk to us about your custom welding or finishing requirements.
PEMSERTER™ PRESS
One assembly process that we have the capability for is a machined alternative to welding. We use our PEMSERTER® Hardware Insertion Press for insertion of PEM fasteners, where applicable, to avoid welding and maintain a professional finish.
Finishing Machines
In terms of our finishing hardware, we have a 37" wide belt sander and vibratory deburring machine that provide the perfect finish for parts and products.
Contact Precision Metal Manufacturing
We take pride in the level of craftsmanship we provide. Our customers' satisfaction is paramount on every job, so we aim to maintain the highest level of quality and consistency in every part we produce – from start to finish. From the outset of the project in the modeling phase, through cutting and bending to final assembly and finishing, we demand the very highest standards. Contact us today to talk about your job.
Call 480-987-2466 or email info@azpmm.com to schedule a meeting with our general manager.
Scott L., Bulwark Exterminating, LLC
"When I found out about Precision Metal Manufacturing, it was after seeing some parts they had built. I thought they had robotic welding and assembly processes, but it turns out their fabricators were just that good! Sean has been nothing less than great to work with! From helping with cad design and rendering, to full production runs with consistent, exacting  tolerances. My company has used PMM for years and will continue to do so for many years to come! I highly recommend Precision Metal Manufacturing (PMM)."