After we have cut the metal, the next step in the metal manufacturing process is typically bending, where we start to form the part. Our goal throughout our manufacturing process, including bending and forming, is to utilize software and CNC machinery that provides consistently excellent parts for our customers. If we can increase our efficiency, we are able to reduce our lead times and keep our costs competitive.
If you have a standalone cutting and/or bending job you would like us to quote on, reach out. A lot of our customers like to do the final assembly – the welding or the finishing – themselves, they just don't have the equipment to cut and bend the metal. We would be happy to talk with you about your job, so give us a call – 480-987-2466.
Our Accurpress 10' Press Brake
Our primary bending machine is our Accurpress 10', 120-ton, five-axis CNC Press Brake with CNC crowning and touch screen programming. This machine uses Vision Control software which incorporates all the necessary functions needed to create a good part. Again, this technology is a step above standard for a shop of our size. The built-in CNC crowning feature in this machine allows us to maintain a consistent 90-degree angle across the 10' bed of the press.
Bending requires a significant amount of experience to understand the process to correctly bend parts, and our team has that skill set and experience. We encourage you to come in and visit with us; check out our facility and see our team and machines at work. In addition to our press brake, we also have CNC tube bending capability if required by our customers.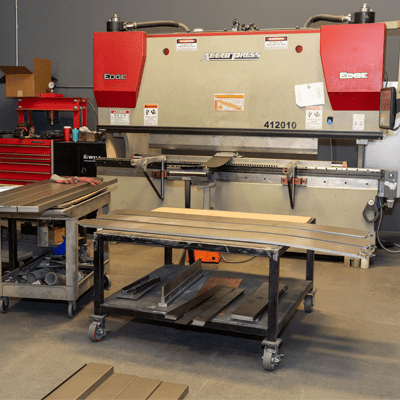 WILA Tooling
We use WILA Tooling within our press brake. This tooling has a quick-change feature that allows us to set up each job much more quickly, enabling us to streamline our bending operations and increase efficiency. We believe that WILA tooling is some of the best tooling you can buy. The accuracy and durability of WILA's tooling is unmatched. It is induction hardened, long life, precision tooling that is perfect for what we need to create excellent, precision parts for our customers.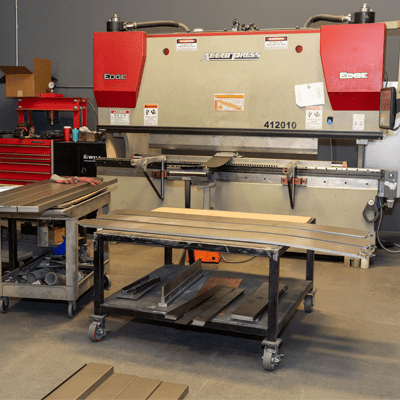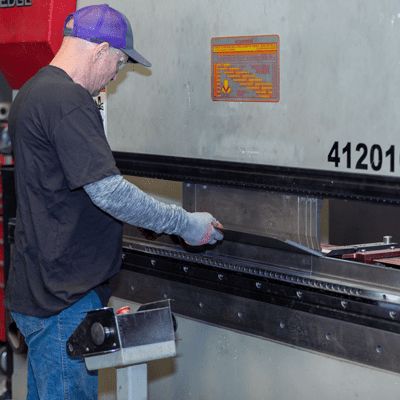 Contact Precision Metal Manufacturing Today
Customer service is central to our business. Why not pay us a visit to see how we can help you in your business or with your project. Contact us today. Call 480-987-2466 or email info@azpmm.com to schedule a meeting with our general manager.