Our Metal Fabrication Process & Services
The team at Precision Metal Manufacturing provides metal fabrication services to a wide variety of industries from start to finish, from modeling & prototyping to cutting, bending, and finishing & final assembly. For the majority of our customers, the process flows from start to finish, but if you have need of a particular standalone service – like bending or cutting – just let us know. We are happy to talk about your project, and how we can help.
Whether you have an idea scribbled on a napkin, or a more solid concept, we will use SOLIDWORKS 3D Design Software to model parts in three dimensions
Not many metal fabrication shops our size have invested in an AKS Cutting Systems 6' x 24' Plasma Table with Hypertherm state of the art XPR cutting technology.
Our state-of-the-art shop equipment includes an Accurpress 10', 120-ton, 5 Axis CNC Press Brake for sheet metal bending. We combine that with Wila Tooling, the tooling you can buy.
All our manufactured parts are hand assembled and finished by our skilled craftsmen. From welding to machine or hand-finishing, we take great pride in every part that leaves our shop.
A Small Shop That Thinks Big
If you take a look at our metal fabrication services in detail, you will see that we are a small metal shop that thinks big. We have made capital investments in both software and hardware that many shops our size will not. Why? Because we believe those investments allow us to provide a better service, and a superior end product to our customers.
Whether it is the precision advantage that using a premium modeling program like SOLIDWORKS® gives us in the 3D design stage. Maybe it's the efficiency benefits that come with having a 24' plasma table. Perhaps it's using high-quality, precision Wila Tooling with our bending press brake. Maybe it's just the E2 Shoptech ERP program we use to manage all our jobs from start to finish. We do all we can to ensure first rate craftsmanship and customer service at all times.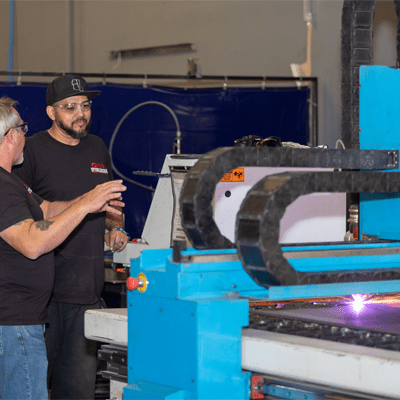 Eric C
"Precision Metal Manufacturing – We have been doing business with them since pretty much the start. Outstanding quality, beautiful sheet metal forming and welding! Parts delivered as promised nicely packed and wrapped. We do recommend Precision Metal Manufacturing to anyone looking for cutting, forming, and finished parts!"
Contact Precision Metal Manufacturing Today
We would love the opportunity to earn your business! We invite you to meet Sean, our GM, to discuss your project and take a tour of our facility to see the way we handle your work. Call 480-987-2466 today, or email info@azpmm.com to schedule.