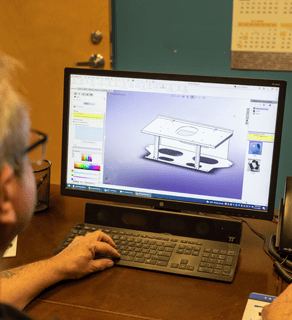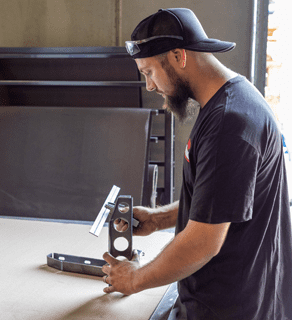 We are a small metal fab shop that punches above our weight in terms of our investment in the tools of our trade. Our 6,000 square foot facility in Mesa houses state-of-the-art fabricating CNC hardware and software.
Check out the Our Process section of our site, and you'll see that we have outlined the equipment we use to provide our customers with the very best customer service, experience, and end product. It includes SOLIDWORKS®, the industry standard in 3D modeling software. We have a huge AKS Cutting Systems 6'x24' Hypertherm XPR plasma table, and an Accurpress 120 Ton, 5 Axis Press Brake.
We confidently provide high quality precision metal fabrication that exceeds our customer's expectations. That is ensured by the job tracking software we use, the way we maintain our equipment, and the way we treat our customers.
Job Tracking
We utilize an ERP (enterprise resource planning) program called E2 ShopTech that allows us to track everything from estimating all the way through to invoicing – it tracks each job from start to finish. It keeps us on track on each job every day, with each team member knowing what is expected from them every day. What that means is that we know the status of each job at any time during the production process. Put simply, it helps us stay on time and on budget for our customers.
Regular Machine Maintenance
Just like when you spend good money on a nice car, if you don't maintain it, eventually it will cause you problems. That's why we do weekly maintenance on our machines at our metal fab shop, as well as scheduling a minimum annual service by the manufacturers. If a machine breaks down, that downtime costs us money and threatens our customers' delivery date. While things happen from time to time, we do our best to ensure that we minimize that risk through excellent maintenance planning.
Customer Onboarding
When new customers come in, you will meet with our owner and general manager, Sean Derivan. Sean is a straight shooter. He talks openly about whether Precision Metal Management is a good fit for you, and whether you are a good fit for us. Once we've established that, the discussion moves on to how we can best help you to achieve your goals. For us, relationships are key. In fact, we believe it is almost everything in business today.
Contact Precision Metal Manufacturing Today
We would love the opportunity to show you our facility, showcase our work and the discuss the way we work. Contact us today to see if we can help you achieve your goals. Call 480-987-2466 or email info@azpmm.com to schedule a meeting with Sean.
Shane LaBuff | Buyer | Cyclone Technology LLC
"Precision Metal Manufacturing has some of the fastest quote turnaround times and has been there for us in a pinch innumerable times. They have good pricing and personable service, highly recommended."