Sean Derivan is the owner and general manager of Precision Metal Manufacturing. A Midwesterner by birth, Sean was born and raised in Port Clinton, Ohio, right on the shores of Lake Erie. Sean spent his childhood years fishing, hunting and fixing up old cars.
After high school, in 1984, he enlisted in the U.S. Army. After basic training, he attended AIT at Aberdeen Proving Grounds, Maryland, where he got his primary job training as a welder/metalworker. From there he moved to his permanent duty station at Ft Stewart, Georgia, where he served in a tank battalion for the next 3 1/2 years.
"I was fortunate enough to be sent to the US Army's national training center at Ft Irwin, California…twice. I was deployed to Egypt for training as well, where I spent several weeks in the scorching sands of the Sahara Desert. I even got to visit Cairo, Egypt which was a real culture shock to say the least. Things are so much different in that part of the world. I also had the opportunity to visit the pyramids and the all the other wonders that Egypt has to offer. Even got to tour the inside of one of the pyramids. A time I will never forget."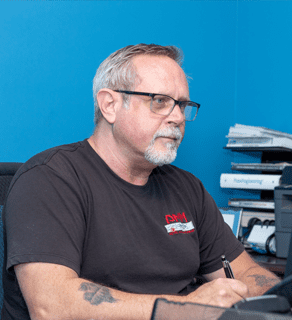 After 4 years in the military, Sean decided to try the civilian world. He was honorably discharged in 1988 with the rank of SP4/E4. Sean worked servicing fire trucks, and occasionally building skid units for brush trucks for a few years.
30+ Years in Metal Fabrication
Missing the metal fabrication industry, Sean decided to move back to the field in 1991 and has been working in it ever since. He worked in a few different jobs; he built restaurant sinks, tables and cabinets for customers in the food service industry, he manufactured stainless steel hoppers, chutes and cabinets for several large pharmaceutical companies. But, finding a need for change in his life, Sean moved to Arizona in 2002.
"When I came to Arizona, I worked in the metal roofing industry for a few years then found work in the semiconductor industry, building close tolerance frame weldments. Weldments and structures in the semiconductor industry require a great deal of attention to detail and it kept me on my toes. That was a fantastic learning experience and it helped hone my skills as a fabricator."
From as far back as Sean can remember, he always did side work to better himself. He found himself meeting new people, building relationships, and developing a network that would help to propel him to start his own business.
"I established Precision Metal Manufacturing in 2007. I thought with a little luck and a lot of hard work and long hours, I could make it work. Many years later, we are still going strong. We've built a network of customers that we partner with that keep us busy all the time. I thoroughly enjoy working with customers to turn their designs and ideas into reality. Solving a customer's problems is the core of what we do, if WE don't solve them, someone else will."
Contact Sean Today
If you would like to have Precision Metal Management provide an estimate for your next metal fabrication job, contact Sean today. Call 480-987-2466, or email info@azpmm.com to schedule a discussion. We look forward to working with you.